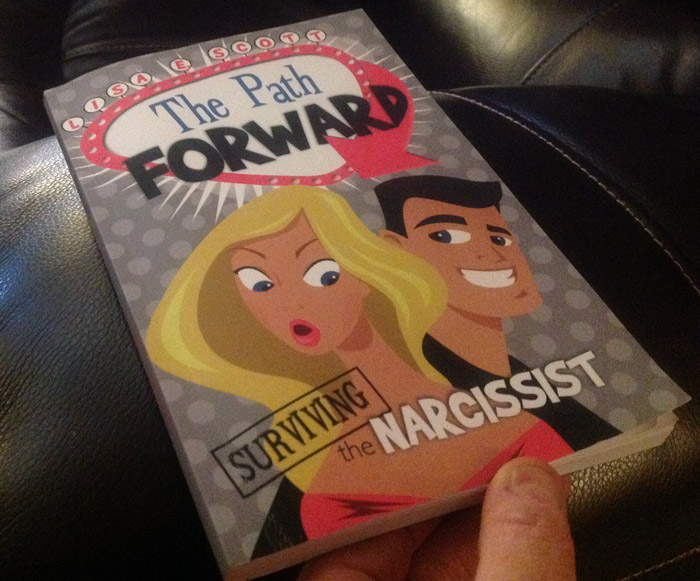 I continue to find excellent resources from lots of places, but most often from my client's themselves.
The following isn't just a book review… It's the story of how one small book helped a woman finally stop feeling crazy and find words for her world that was turned upside down.
For Other Hurting & Confused Women
"All this time you were pretending … so much for my happy ending" – Avril Lavigne.
I was married to my high school sweetheart; a reformed man that had me in his gaze. He would spend hours talking with me, bend rules to come and see me, make me laugh like no one else and seemed to always find a way to reach out and care for those around us in need. He was sexy, yet approachable. He would lavish me in words through letters and couldn't keep his hands to himself when we were around each other.
I was enamored with the adventure that seemed to always follow us, and adored the thrill of never really knowing what would happen next. Never before had I been pursued quite like this. His company had the ability to make me feel like I was truly something … someone. My pen was poised and ready to write that happily-ever-after ending when he asked for my hand and we became husband and wife.
Today, several years after an unforeseen and earth-shattering divorce, from which I couldn't seem to fully recover, that pen was ripped out of my hand. The fairy tale that was my dream had in fact turned into an unexplainable nightmare. This man that I had believed would die for me, transformed into a malevolent force, leaching the very best parts of me away.
I would beat my head against the wall in counseling sessions, trying so hard to detach from his decision to discard me – to leave me homeless in the winter, desperate and bankrupt, without even blinking. WHY DID I LET HIM TREAT ME THIS WAY? WHY CAN'T I JUST GET OVER THIS? WHAT HAPPENED? WHAT WENT WRONG? WHY DO I STILL FEEL LIKE I NEED TO DEFEND MYSELF FOR CHOOSING HIM AS MY HUSBAND? AFTER ALL OF THIS, HOW CAN I STILL THINK ON THE MANY THINGS I LOVED ABOUT HIM? HOW COULD I BE SO STUPID?
I craved answers. I was desperate to stop that feeling of being suspended between my reality and the reality that others were enjoying. I wanted to see myself the way others affirmed they saw me … but there was a disconnect. Their words never seemed to take root.
A good friend of mine heard a couple things from my story and recommended this book: THE PATH FORWARD: SURVIVING THE NARCISSIST BY LISA E SCOTT. I picked up a copy… you know, in case I ever bumped into someone else that needed this information. The first chapter is entitled UNDERSTANDING IT.
Weeping, I realized that I had underlined the entire first chapter! THERE WERE WORDS TO WHAT I HAD EXPERIENCED! I AM NOT ACTUALLY CRAZY!
Lisa beautifully explains in the book how my husband had been so effective in the destruction of my life when she writes:
"He invaded my territory, abused my confidence, exhausted my resources (both financial, emotional and physical), threatened my stability and security, involved me in his paranoid states of mind, frightened me, withheld love and sex from me, prevented satisfaction and would cause friction for no reason, humiliated and insulted me (through his online and personal exploits with women), criticized me in a 'logical' tone (as if to pat me on the head and tell me how things really were)." – The Path Forward Surviving the Narcissist.
The wonderful thing is, she didn't stop there. There was hope, offering the best news of all… She writes, "THE DEMISE OF A HEALTHY RELATIONSHIP WITH A NARCISSIST IS INEVITABLE."
In essence, there was actually nothing that I could have done to make the relationship work. I AM NOT BROKEN, AND IT IS NOT MY FAULT.
The man that had won my heart was, in fact, very skilled at knowing what I wanted to see and then becoming exactly that until it no longer served him to have me in "his" world. ALL THE GOOD THINGS I SAW IN HIM WERE A RESULT OF HIM SEEING THEM IN ME AND ACTING ACCORDINGLY.
What incredibly freeing and good news!
Lisa also speaks of the type of woman that is generally attractive to this type of man. I am an "Empath"–highly attuned to other's emotions… so much so that it is almost palpable. It is natural for me to want to give to others, listen and be present in difficult situations of pain. A narcissist sees that as a person who will give without ceasing to their needs. If you are the same way, I do not mention this to shame you or scare you. Your skill is incredibly necessary for a hurting world. It is almost a super power. But this book helps to empower you to use it to YOUR benefit, and not allow it to be a tool that others use against you.
If your heart is nodding and your insides reacting to my story, there is a very good chance that you are also experiencing the crazy making that is life alongside a narcissist. By the time you are out of the relationship, your sense of self is stretched to a place that is unrecognizable.
YOU ARE NOT CRAZY, DEAR ONE. There is hope on the other side of this terrible rollercoaster ride.
Find a counselor that can support you and begin to feed truth into the places that have been starved and misguided for so long, and take time to read this short but profound book.
Let this be an invitation to begin receiving answer to pending questions, resolution where confusion lies, and to begin seeing yourself as you truly are—someone worthy of love, care, and respect.
Join me, and step back into the shoes of the strong and precious woman that you have always been. One step at a time you can move on the path forward.