Podcast: Play in new window | Download | Embed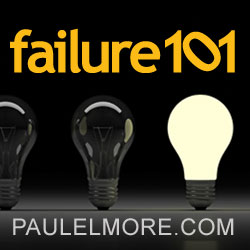 No One Likes To Fail
The bad news is, its part of the human condition and can't be avoided.
You may have spent a lot of time and energy trying to avoid failure. You're afraid if you fail it means you aren't good enough (shame) or you won't be accepted (conditional love).
Instead Of Being Afraid Of Failure, Wouldn't It Be Nice To…
… know how to learn from your mistakes.
… separate who you are from what you've done.
… know how to forgive yourself and others when mistakes are made.
Redeem Your Mistakes With Failure 101
The Failure 101 series looks at the common issues that are related to failing.
Why failing hurts so much.
Failures often shape how we view ourselves. Learn the difference between shame and guilt.
Learning how to take healthy risks again after major failures.
When we fail, we often pursue more control. Instead, learn how to truly live in grace.
Failures often lead to conflict. Learn how to have productive fights.
When others fail us, learn why and how to forgive (and how to forgive yourself).
When failures can't be fixed, learned how to grieve effectively.
Mother Teresa said…
"…our community is not composed of those who are already saints, but of those who are trying to become saints. Therefore, let us be extremely patient with each other's faults and failures."