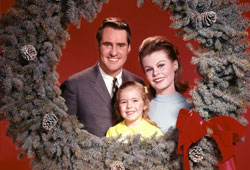 "My wife and I are expected to be at my parents house for Christmas because we spent last Christmas at her parents house, but my wife and my brother don't get along that well so my wife is not real excited about making an 8 hour trip with 3 small children to go visit some place she doesn't feel comfortable. She would rather go do something with our friends who are staying in town this season. If we don't go then I'm afraid that I'll disappoint my parents which will cause this uncomfortable tension for the next 5 months before the next round of birthdays. The fighting started around the middle of November and the tension in our house hasn't gotten below level 6 for the last 4 weeks."
Sound familiar?
The holiday season can be one of peace and joy. Or… it can be one of stress and conflict. Holiday discord usually arrives because of the different expectations of spouses, extended family members and ourselves around travel plans, traditions, money, gifts, and kids.
A Better Alternative
The holiday season will go much better once you and your spouse create some shared values. When you both agree on what is important and are willing to make those things happen then you will be able to finally find peace.
Steps To Creating Shared Values
Start From Scratch—Imagine that every family tradition is gone. You don't have to be anywhere and you don't have to do anything. No one else's expectations are there and no one will care what you do. You have a blank slate.
Understand The Why—Chose one tradition that you actually want to do. But this time, don't focus on the "What you do" but on the "Why I like to do this." Why is the turkey dinner so important? What feelings and emotions does it stir up? What memories does it bring you back to?
Is There An Alternative—Once you understand why something is important, is there a way to meet that emotional need in another way that works better for both of you? Usually there is.
Focus On The Person, Not The Event—What is more important, a road trip or your spouse? When you understand that your spouse is more important than some THING (road trip, turkey dinner, being on time, etc…) then you can start to hold onto those things more loosely. When they don't come together it really is okay and doesn't stress you out because your main focus has been about the person.
Chose Who You Will Disappoint—You can't please everyone. Who will you make a conscious decision to let down?
Holiday Topics To Talk About
Here is a short list of things to start creating shared values around
Travel Plans—Who visits who and when?
Finances—What's the holiday budget and why?
Gifts—What do the gifts mean?
Charitable Giving—What will we do outside of our family?
Extended Family—How much time with whom?
Faith—What religious traditions do you want to observe and why?