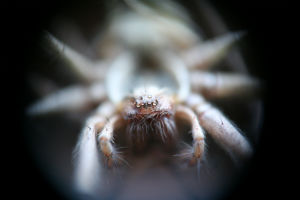 Lots of people don't like spiders… including me.
The picture in this post is a hobo spider that was in my daughter's room the other day. The spider was about 3″ across when he was spread out on her ceiling (about as big as the picture is wide on your computer screen right now).
After capturing him and letting him die (by putting him in a big clear plastic tub out in the sun), I decided to study him and take some pictures.
You have to admit… in all of his horrible creepiness, he looks pretty cool.
The Importance Of Spiders
Whether we like it or not, spider serve an important function.
It's generally understood (but not scientifically supported in this post) that other annoying insects would become so numerous that the entire eco system would collapse.
Creepy crawlies are kept in check by bigger creepy crawlies… spiders beings some of the best.
The Wrong Environment
Now, while spiders are doing their appointed jobs of eating other bugs, I'm okay.
It's when they show up on my pillow just before I lay down to go to sleep, waiting to crawl in my ear… That's when I have a problem.
That's definitely NOT the right environment for a spider.
What's The Connection
All spiders are good and serve a useful purpose. And, all emotions are good, too.
All of them.
I know you don't like the painful emotions—crying, sadness, depression, fear, embarrassment, etc… But each one of those are good emotions when they are felt and expressed in the right environment.
If your spouse were to die, I hope you would be filled with sadness and grief. That is the healthiest emotion for the situation.
If you are wrongfully accused of stealing at work, it would be normal to feel outraged and angry.
If your boyfriend or girlfriend decides to break up with you, it's a good time to feel hurt.
I Just Want To Be Happy
Saying, "I just want to be happy" is like saying, "I just wish there were no spiders." We need both emotions and spiders to live a healthy, balanced life.
The next time you're feeling some of the painful emotions, instead of trying to make yourself stop feeling them, ask yourself, "Given what's happened, is this the appropriate time to feel what I'm feeling?" When you do this, you start to give yourself permission to feel what you're feeling without the guilt or shame.
Please Share This Post
If you know someone who doesn't like spiders, then share this post with them using Facebook or Twitter. They'll thank you for it. I promise.