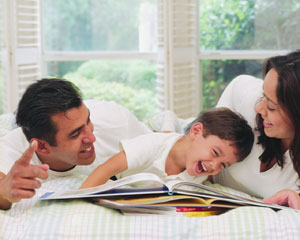 It seems that I've been talking about parenting lately with many of my clients and giving them recommendations on good books to read. So, naturally, it seems like a good idea to share with you what those books are. Here are my Top Five Parenting Books.
How To Talk So Kids Will Listen & Listen So Kids Will Talk—Adele Faber and Elaine Mazish
Yes, this book is plenty old being published in the 80's but it is still gold. What I appreciate so much is the emphasis on trying to understand how your kids process information so that we, as parents, can adjust ourselves and reduce our kids frustration level.
Siblings Without Rivalry—Adele Faber and Elaine Mazish
Another older book with really bad cartoons but excellent info. If you have multiple kids and you're tired of watching the fight and bicker then its time to read this book.
Parenting With Love and Logic—Foster Cline and Jim Faye
This book is probably one of the essentials for parenting. They emphasize letting kids learn through consequences instead of parents having to force their children into obedience. Once you understand the philosophy and see it at work, you'll never want to go back to power struggles or passive parenting. For those with teens, they also have Parenting Teens With Love and Logic.
Trauma-proofing Your Kids—Peter Levine and Maggie Kline
Not really a parenting technique book but more of a "How to" book on helping your children move through the difficult and scary parts of being a kid. It shows you how a child perceives troubling situations and what parents can do to provide valuable comfort and care so that your kids won't carry on the emotional damage. The second half of the book provides case-specific scenarios like helping kids deal with divorce, medical trauma, death of someone close, or abuse issues.
Parenting From The Inside Out—Daniel Siegel and Mary Hartzell
All of our parenting comes from our stories. The better we understand that story, the better parents we can be. The strongest piece of this book is the information on attachment, both as children and as adults. It also addresses the importance of being present, both physically and emotionally, and how to start developing "Mindsight". (When I start teaching a parenting series, this is what I'll be teaching. Its that good.)