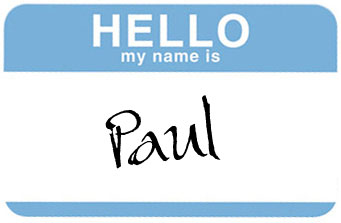 It is 12:28 pm on Wednesday, the day before Thanksgiving and I just got back from picking up my lunch from the local deli around the corner. It was fairly busy so I had to wait about 10 minutes before I got my sandwich and headed back to my office.
After standing around for 5 minutes waiting for my lunch I realized that I the guy behind the counter didn't get my name when I placed by order. They usually ask so they can call out your order by name. So I was a little worried that I might end up being the smoked-turkey-and-pastrami guy.
Instead, when my order was up they called me out by name. Paul.
It would seem that I am in that sandwich shop often enough where I am known by name. I belong. I'm in the club. I'm a "regular". Out of all the stuff that has happened to me today, this one little thing has meant the most to me.
I tell people all day long how important it is to have a community around you. To have people who know you, support you, accept you, care about you, love you. Now I know the sandwich guy and I aren't best friends but I am known on some level more than "hey you."
How well known are you? Do you have a place where you are known by name? Do you know the other people's names? Set down some roots, even if it is only for a season. Get found out by others.
Making your way in the world today takes everything you've got.
Taking a break from all your worries, sure would help a lot.
Wouldn't you like to get away?
Sometimes you want to go
Where everybody knows your name,
and they're always glad you came.
You wanna be where you can see,
our troubles are all the same
You wanna be where everybody knows
Your name.
Cheers Theme Song