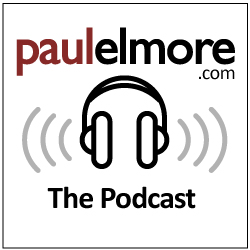 If you have gone looking for my podcast lately, you may have noticed my absence on iTunes.
That's because, as I have been adding more episodes to the podcast, I started to outgrow the existing hosting service I was using.
Sooooo….. I began the process of upgrading all the technical stuff that makes this podcasting stuff work.
Well, believe it or not, I got it all ironed out and ready to go. The old feed is dead and gone and the new podcast feed is now available.
3 Things You Should Do Now
1. Subscribe To The New Feed—If you were subscribed to my old iTunes Podcast feed (thanks for that by the way) you'll need to go in and re-subscribe to the new feed. If you've never subscribed, then now is a great time to be like everyone else, give into peer pressure, and subscribe for the first time.
2. Leave A Comment And 5 Star Rating On iTunes—The more comments that are left on iTunes, the higher up the ranks the podcast moves. This makes it visible to more and more people who may be able to get some helpful information for the first time. (Thanks in advance for any feedback you leave.)
3. Facebook, Twitter, & Google+—If you find the podcast helpful, please use the buttons below to like this post, tweet it out to all your friends, or post it on Google+.

Coming Soon
Starting in July I'm speaking at Imago Dei's Refuge group on Monday nights. I'm introducing a new series called Affinitas.
Affinitas means "to be in relationship with". It's also where you get the word affinity from. It's a word that captures the idea that you were made to be in relationship—not just romantically, but personally, socially, emotionally, etc… You are a pack animal and you work best by being connected to other human beings.
Yet, relationships can be one of the bigger sources of conflict and stress in your life. Friendships gone bad. Bad breakups. Divorce and separations. Hating yourself (yes, you have a relationship with yourself as well). A God that you can't hear or touch. How are you supposed to relate to those people?
Affinitas will be outlining the rules to what healthy relationships look like. We'll be using lots of examples from movies, stories from people I've sat with, and examples from Scripture to understand just how to make these crazy things called relationships work.
If you can't make it to Imago, each class will be made available on the podcast. Be watching for them.
A Big Thank You
Thanks to everyone who has expressed appreciation for the podcast episodes so far. I really enjoy making them and wish I had time to do more. It's my hope and intention to make better ones as time goes on and to make them as relevant and enjoyable as possible .
If there is a particular topic you'd like to see show up in a future Podcast episode, use the feedback form on the Contact Page and let me know your question or topic. I'll see what I can do.