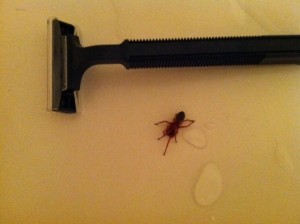 6 months ago, while drying off after taking my morning shower, I noticed something fall out of the towel that I was using to dry my hair and face.
When I looked down, I saw a large… red… thick… hairy spider sitting in the bottom of the tub.
After screaming like a girl (and making sure he didn't have a brother hanging out with him in the towel) I finished drying off and grabbed my camera. (Yep… that's the actual spider in the picture. I put the razor next to him for size comparison.)
For the rest of the day, I had a serious case of the heebie jeebies, and it felt like I had little hairy legs crawling up and down my neck.
That's Not The Worst Part
That morning was definitely not a gold star type of morning. [Read more…]