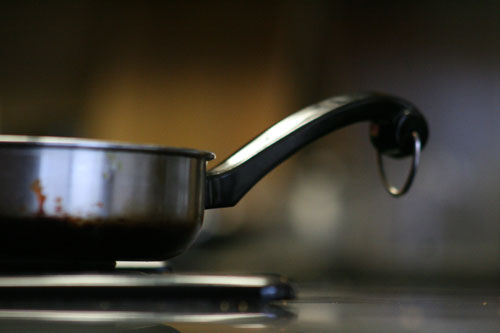 My wife and I have had the same set of cooking pans for the last 18 years. They are old-school cookware—the good stuff that just can't seem to be found these days. They're not fancy and they're not pretty but they cook a mean set of eggs.
The 10″ skillet is the pan that gets the most action. Its just the right size to make a quick meal and it is constantly being washed and used and washed and used and used and washed. So, when the handle started coming lose it wasn't a big surprise.
That was 15 years ago.
Every few weeks, for the last decade plus, I've had to get out the screw driver and tighten it up. It holds for a few more weeks and then lets go again.
But we adapted. We learned how to hold the handle just right so it didn't spin or twist and dump scalding food all over ourselves. We learned how to to read the handle to see if we could get one more set eggs out of it before we had to fix it again. And when we were really lazy, and we knew the handle wouldn't make it, we just got out the tongs and use them to hold the pan until we could find the screwdriver again.
Such has life been these many years.
Five weeks ago, I surprised my wife by going on-line, finding a new handle—one that isn't cracked—order it, have it shipped to our house, take off the old, tired, broken handle, and install the strong, perfect, new handle. Brilliant. Problem solved. I'm the hero.
Until this morning.
While cooking her breakfast, my wife turns to me and says, "I just can't seem to get use to this new handle. It just doesn't feel right."
And there it was. One of the realities each of us face in the midst of our growth.
We get use to brokenness. It feels normal. It feels right. Even though it is inconvenient and difficult and painful at times, it is comfortable and "right". When we try changing and living our lives in healthy ways, it just doesn't seem… right.
And so we go back to what we're use to. We put the broken handle back on the pan because we know how to handle it (sorry for the pun).
Anyone seen the tongs?