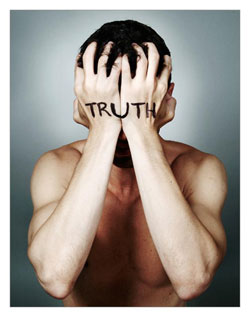 It is never easy to hear bad news—especially when that bad news is coming from yourself. Its easier to avoid the realities of life and just hope or pretend that things aren't as bad as they seem.
Most of you have an intuitive knowledge of where you are truly at. You know that your financial situation is bad. You know that your marriage is not in a good way. You know that you don't like your job. You know that you don't like a certain member of your family.
But actually saying it out loud is unthinkable.
Even though it is hard to do, being brutally honest has several good things as well.
#1—Being Honest Makes Things Real
When we say things out loud—even to ourselves—it changes something inside of us. It make it more real in some way. (Actually this is true on a physiological level because you are using different parts of the brain to process the same information. That's why talking to yourself somethings makes it easier to find a solution.)
When you chose to make something real you can no longer imagine it away. It is real. It is tangible and now something needs to be done about it. And when you do something about it, you get unstuck. You grow and change.
#2—Brutal Honesty Gives You Self-Confidence
When you stop hiding and avoiding—when you come face to face with the realities of life—you stand in a stronger position. You take responsibility for who you are and what you need to do. And when you stand there it is easier to be proud of yourself. You are acting in healthy ways, which makes it easier to like yourself and believe in yourself.
I've known many people who, once they admit that the situation they are in is as bad as they think it is, breathe a big sigh of relief and start feeling better about themselves—maybe not about the situation—but about themselves. Being honest brings the necessary healing to their heart so they can now do what needs to be done and move on.
#3—Brutal Honesty Is More Respectful To Others
I know that this might not make sense, but think about it for just a minute. You usually can tell when someone is holding something back—when you're not getting the full story. And the nagging wondering of "What aren't they telling me" gets in the way of the relationship. Now, sometimes what they are holding is okay and appropriate, but often times, they hold things back because they don't want to hurt or upset you.
When you are brutally honest, others will know and feel that they get the full you—that you trust them enough to be honest with them. You believe that whatever you need to talk about they will be able to handle and that the relationship isn't quite that fragile. When you are treated that way, it makes you feel good—even if the news is hard to hear. At least the person had the decency and respect to be honest.
Being Honest But Kind
On a final note, the WAY you are honest is just as important as what you are being honest about. You can get in someone's face and deliver truth in highly offensive ways, or you can be compassionate, kind, understanding, and loving.
I'd suggest the later.
It will work out better for you in the long run.