Have you ever been mountain climbing? When you do it right, it take a lot of preparation. Here are some of the important things you'll need the next time you want to climb a mountain.
A mountain—Finding the right mountain is important.
Equipment—To climb your mountain safely you'll need the right tools and equipment. Without them, you run the risk of getting stuck or hurt.
Skill—Knowing what to do with the equipment is really important. If you buy the equipment just to look cool but don't know what to do with it, you'll end up in trouble.
Time—Climbing mountains isn't something you can do on your lunch break. It takes serious time to make the hike.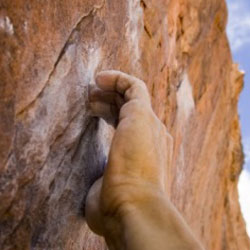 There is one more essential thing you need if you're going to climb a mountain. You can have the best equipment… you can have the best training and skill set… you can be sitting right at the base of your favorite mountain to climb… you might have taken the next 4 weeks off to climb your mountain… but if you're missing this last piece, none of that will matter.
Energy—Energy is necessary to put all of those things into practice. If we are so tired or exhausted from all the other mountains we've been climbing, then climbing this mountain might not end up as successfully as we envision it. Before climbing your mountain, make sure you have the personal reserves to see the trip through to the end.