I've been thinking about the age old question "Why is it so difficult to change?" "Why do we keep doing the things that we don't want to do?" "Why don't we do the things we know we should do?" Well, I think I've found the answer.
Hope. More specifically, the absence of hope.
Hope is our ability to see into the future where thing are different—to imagine what life will be like after we have changed. But what happens if we can't see that far—if we don't know what life will look like once we have changed? How can we expect to get somewhere if we don't know where we're going? If we can't see ourselves different then our only option is to stay the way we are.
C.S. Lewis said, "We chose a known hell over an unknown Heaven." The issue isn't hell or Heaven. The issue is known and unknown. When things are unknown we have to risk. We have to trust. We have to believe. We have to hope. But there is nothing in the here an now that gives us the guarantee that each of us are looking for.
So, what to do? Does that mean we're stuck like Chuck? Hardly. Its time to start trying on things.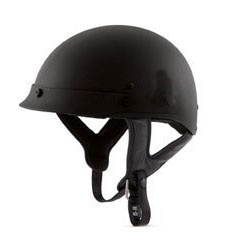 I have a friend who rides a Harley. He's big time into his motorcycle, especially now that the weather is starting to turn nice again here in Oregon. He wears all the traditional garb. Black jacket, chaps, leathers, boots, etc… stuff I don't normally wear to the office. Now, if I wanted to become a biker like my friend I think the first thing I would do is go down to the local Harley dealer and make my way back to the apparel department and start trying on the clothes. I'd deck myself out in all of the trappings of a bad biker and walk around the store for half an hour or so just inhaling the smell of all that leather. I'd get comfortable in the clothes. I'd get use to the feel. I'd familiarize myself with the culture. I'd experience it for a brief moment in time. I'd try it on first before I own it. Now that I know what it feels like to be a biker it is easier to start making the changes in my life for me to own it.
How do you want to change? How can you try on the new you before you actually make it you? How can you experience it and not just imagine it? Really feel it?