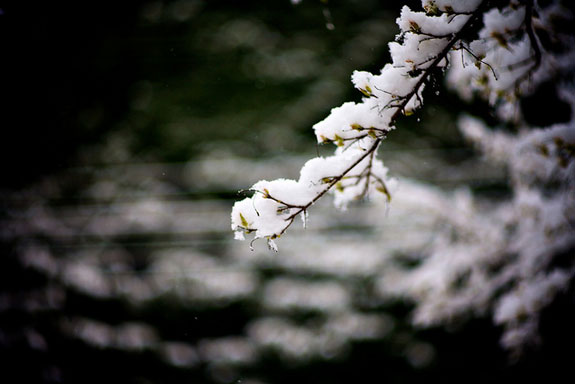 It would be nice if being a trauma therapist meant I handled traumatic situations better.
But it doesn't.
The Story
On Thursday night here in Portland, a rare snow storm blew into town.
The schools were let out early and I ended up coming home after lunch to avoid the crazy traffic that Portland seems to encounter when a few snow flakes hit the ground.
Like all kids, once there was enough snow on the ground, they dug out their snow pants, coats, boots, gloves, and hats and headed outside at about 5:00 pm—Just as it was starting to get dark.
My daughter (18 year old) and youngest son (11 years old) stuck together and went down the street together to play at the pond. My oldest son (16 years old) told my daughter AFTER they left the house (and unbeknownst to us) that he was going hiking on the mountain next to our house—ALONE—near dark, and without his cell phone.
My second son (15 years old) went with his sister and youngest brother down the street, but then decided to go the opposite direction by himself with no explanation as to where he was going.
Half an hour later, my daughter and youngest son arrived back home—cold, wet, and happy. My oldest son took another 15 minutes to get home from his solo trip on the mountain (which we were not too happy about).
My 15 year old son doesn't come home.
And we start to panic.
It's now very dark, very cold, very snowy, and very unlike our son to not be back yet.
Even worse, in the past, he has tried to hike on the mountain by himself and has gotten lost (meaning he takes the wrong trail and ends up exiting the mountain at one of 5 or 6 different trail heads—at which time he usually calls and asks for a ride home).
This night, our son also forgot to take his cell phone.
After an hour, I put on all my snow gear, grabbed a flash light and walking stick, tell my oldest son to get dressed again, and we head out, assuming that my 15 year old was up on the mountain, lost and alone and scared.
Tracking 101
I grew up in San Diego, so I'm not the best in the snow.
But when I'm looking for my son, I'll learn fast.
My oldest son and I head up the trail, watching the paths in front of us for signs of my other son's foot prints. (Fortunately, my son had worn a pair of my old boots, so I knew what the tread pattern looked like).
After hiking up the main trail with no sign of him, we come to a fork in the trail and have to make a decision. We look and see that there are no new foot prints in the snow on the trail heading up the mountain, so we opt to go down the trail to the other trail head.
After another 15 minutes on that trail, we still see no sign of him.
At a second fork in the trail, and with no signs of him, my son suggests that we head down the second trail to see if we pick up tracks further down and that maybe my other son had only made it half way up the trail before deciding to turn back.
My oldest son is pretty smart. About 5 minutes down that trail, we see boot prints—my other son's boot prints!
We now know that he had come on the mountain.
But the prints show that he had stopped and turned around and went back DOWN the trail.
This is good news, because we follow the tracks all the way to the trail head. But the bad news was at the trail head, it was unprotected by the trees and brush from the weather so all the tracks had been covered by newly fallen snow.
We had lost his trail.
It seemed that he wasn't on the mountain, but now we still had no idea where he was.
Looking back on the situation, this is what I realized:
1. It's Normal To Run Worst-Case Scenarios In Your Head
Even though my rational brain was telling me my son is smart and capable, my reactive limbic brain was telling me my son was lost, on a mountain, in a snow storm, and he was going to freeze to death over night if I couldn't find him.
And I couldn't talk myself out of that picture.
No matter how hard I tried, that was the only image I saw.
My rational brain was in a losing battle with my limbic brain.
And it felt real.
Very real.
2. Your Body Reacts In Ways That Are Not Normal (or Comfortable)
My body felt the stress even before my brain really registered what was going on.
It started with the sinking feelings in the pit of my stomach—like something I ate wasn't sitting well.
Then I experienced trembling and shaking because my nervous system became charged and energized.
Then the anger showed up.  I knew I wasn't actually angry—I was afraid. (For men, most of our strong emotions exit through the anger gate. Women—your strong emotions exit through tears).
Stress and trauma show up in the body first, not the mind. My body was going into fight or flight mode and I was operating primarily out of my limbic system and not my rational mind.
That's why people make simple mistakes when overly stressed or in panic situations. The thinking part of the brain starts to shut down and they operate out of survival mode.
I had all sorts of nervous energy and my focus became very sharp. I started to snap at my wife because I was almost trying to will my son to come home.
My senses became heightened. My hearing was sharper and I needed less noise around me so I wouldn't become overloaded.
Overall, my entire physical bodily sensations were firing on all cylinders and I was ready for action.
3. No One Reacts The Exact Same Way
The feelings and reactions I was having were personal to me.
My wife was having her own feelings and sensations, but they were different than mine.
There is no right or wrong way to move through traumatic sensations. They are truly individual and subjective.
What I might find traumatic, someone else might not be bothered by.
My youngest son was feeling stress because he got really quiet. To manage his stress, he started watching videos on the computer. He internalized.
My daughter needed to get closer to people. She wanted to be held or be near by someone.
My other son started talking and trying to think through things rationally (a common way he displaces his nervous energy).
All of us were stressed, but none of us expressed it in exactly the same way.
And Now… The Rest Of The Story
While my oldest son and I were hiking through the storm, my wife was working the phones trying to call around and see if my other son had stopped at a friend's house.
When the answer was no to all the calls, our neighbors bundled up and started driving the streets looking for him.
We have very good neighbors.
Other friends called me and said they were ready to head out the door if we needed more people looking for him.
After hiking the mountain for 45 minutes and walking the streets for another 45 minutes, I got a call from my wife saying my son had walked in the door, oblivious to what had been transpiring for the rest of us.
He had decided to simply go for a walk taking the VERY LONG way to Safeway by our house. After getting warm in the store for a few minutes, he just came home.
Here's the text I sent my friend Dave: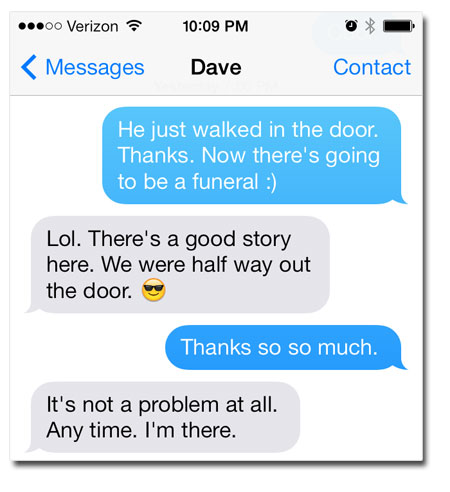 Bonus Lesson—Energy Has To Be Released
After walking in the door and getting out of my snow clothes, I walked into the kitchen to where my daughter was at.
She turned around, grabbed ahold of me, and sobbed.
She was scared for her brother and she had run her own worst-case-scenarios in her head.
She needed to expel all the energy her body had accumulated over the last hour-and-a-half, and for her, that came through tears.
After about 5 minutes of hard crying and shaking, she let out a big sigh, wiped her tears and started breathing easier.
My wife had waves of tears come and go throughout the evening and into the next morning.
My oldest son didn't need to have his logical rational coping brain on as much so he got a little more silent.
And me… I had a bad night sleep. My body—especially my legs—felt like I had all sorts of energy going through them. All the walking I did released some of my emotional energy, but my body was trying to work out the rest of it throughout the night.
To help it along, I did some specific exercises in the morning to help release some of the traumatic energy.
It seemed to help.
Bonus Lesson #2—It's Best To Go Through Scary Things With Someone Safe
When we met up with our neighbors who were driving around, I was surprised by how comforting it was knowing that our family was not alone in trying to find our son.
I felt safer.
When I got the texts from my friend saying they were ready to join the search, I felt a wave of relief. I realized that I wasn't going to have to solve this problem alone.
Trauma is made worse by being alone in it.
Sometimes, people show up in the moment (like what happened with us). Other times, supportive people come later.
As a trauma counselor, I sit in that supportive role often.
But for a long couple of hours on Thursday night, I sat in the other chair.
I think I understand just a little better.