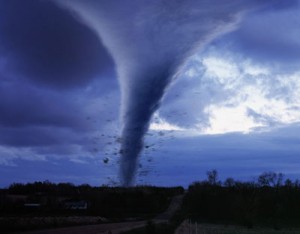 In May of this year a tornado hit Joplin, Mo. A third of the town was destroyed and 162 people were killed.
While it takes only 5 months for surviving families to rebuild their homes and get back to "normal", the psychological effects of those three minutes of terror will last a life time.
Most People Don't Understand Truama
How can three minutes be that bad? Why can't people just get over it? It's not happening to you now—why can't you just move on?
All of these are the common responses I hear from both family members and trauma survivors. Most don't understand how trauma affects you or what it looks like when people are still trying to work things out.
The following audio clip is an NPR story of  followup interviews with several of the families and children who survived the tornado. The story paints a very clear picture how people are still trying to work out their experience—especially children.
If You Are A Trauma Survivor
Whether you're the victim of a natural disaster, physical abuse, emotional abuse, or sexual abuse, the number one thing I hear from my trauma clients is, "I feel like I'm crazy".
In this story, you'll gain a much clearer understand of why you feel what you feel and why you've done what you've done in the years following your traumatic event.
In the 4 minute story, be listening for:
How you as a child try to process things that are overwhelming and terrifying.
How adults need to process their fear and feelings to be able to help you.
The other types of problematic behaviors and coping mechanisms that come out of one traumatic event.
Click To Play
[audio:http://www.paulelmore.com/wp-content/uploads/2011/09/JoplinTornadoStory.mp3|titles=Long Term Affects Of Trauma]
Please Share With Other Survivors
I believe this is important enough for every trauma survivor to hear. If you know someone who has experienced a traumatic event in their life that they are still wrestling with, please use the like button for Facebook or Twitter to share this story.
Sources:
NPR