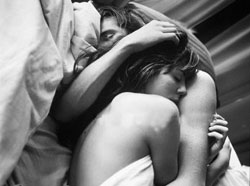 I've been following Corey Allan from Simple Marriage for a short time now. He, and the other writers, have some great stuff to say about keeping a marriage healthy and vibrant.
Today, he was writing about one of men's favorite topics—sex. Not necessarily how to get more sex, but how to have better sex—and specifically, how to please your wife sexually.
He lists out 5 specific things to improve your sexual relationship. I thought I'd tease you (sorry for the pun) with #3. I'd encourage you to read the entire post when you have a few minutes.
Number Three
Your confidence. Because women are by nature security-seeking creatures, a man's confidence can be a major turn-on. When a man approaches a woman with confidence, she experiences the same chemical reaction in her brain (a release of both dopamine and norepinephrine) that a man experiences when a woman lifts up her shirt and shows him her breasts. And by "confidence," I don't mean "machismo." I'm referring to the type of man who knows who he is (and who he isn't). At the other end of the spectrum, men who are anxious, passive and eager to please exude anything but confidence. Looking for a surefire way to kill the passion in your marriage? Become the passive, conflict-avoiding, eager-to-please nice guy who only wants to make his wife "happy."