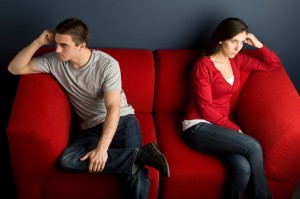 Gentlemen. Marriage crisis doesn't just happen.
It becomes a crisis when the important things are missed.
This is your wake up call.
Some of this stuff you arent' going to like. Some of this stuff is going to be hard to hear.
(And, NO, I'm not going to play fairsies and point out all the stuff she's doing to mess up the marriage as well. I'll do that later).
This is about you right now—the things you have done to contribute to the mess. This is your half and the things you're responsible for.
These are the answers to that huge "How did things end up like this" question you've had in your head for the last 6 months.
This is why your marriage is in crisis
1. The relationship stuff isn't a priority to you
You've got a limited amount of energy and attention to give. Chances are, you spend more time trying to be better at your job, at your hobby, at your sport, than you do at your marriage.
You put more thought and intention into getting better at the tasks of life rather than the relationships with your wife.
You plan ahead for the projects and how you'll be successful at those things. You go in early, stay late, think about the projects while you're away from work, focus on the problem, come up with solutions, move on to the next problem, over and over and over again.
And this is all necessary to make life work. I get that.
But, what would happen if you put the same mental energy into understanding your wife… learning about her and her needs… understanding what makes her tick… figuring her out (yes, she can be understood)… and then planning ahead with intentionality and purpose to meet those needs… to create something that feeds into her soul and heart and spirit and makes her feel loved and special and important.
When you find the balance, and relational stuff becomes AS important as the task stuff—that's when your marriage will start to be much better.
2. You went on auto pilot once you got married
Here's how it works:
You saw the girl… pursued the girl… dated the girl… won over her heart and her friends and her parents… engaged the girl… wed the girl… and then stopped all further pursuit of her heart, both now and into the foreseeable future.
It takes energy to win a woman's heart. More than likely, you did well in that department. After all, she said yes when you asked her to marry you. Right?
But that's when you stopped putting forth any sort of energy into the marriage.
There is the belief that the goal is marriage. That's the end prize. Once you've achieved that goal, then you don't have to work anymore.
Sorry, but that's not how it works.
The reality is, that's just the first quarter of the game.
You have to stay engaged and intentional for the last three quarters. You have to play hard on every play. You have to fight till the last two minutes of the games, the last 30 seconds, the last play of the game.
You have to work and  fight for the next 50 years of your marriage.
There are no short cuts. There is no easy button.
You're going to have to start dating your wife again. You're going to have to think how she'll respond to certain things you say, certain things you do.
You're going to have to win her over every morning of every day for the rest of your lives together.
3. You've never been trained how to do relationships
To continue the sports metaphor, you've never been coached on how to woo a woman.
Learning how to do relationship well is not an inherent skill that every man is born with. It takes being taught to truly be able to master this skill set.
Understanding a woman is like learning a whole new language—literally.
They use the same words for lots of stuff, but it has entirely different meanings. If you've never been taught that dialect, how in the world do you expect to be able to have a vibrant relationship with a woman?
I'd bet good money that your father never took the time to teach you why a woman says what she says… does what she does…thinks what she thinks. I'd bet good money that your father was as lost as you are.
And so you learned to just muddle your way through the relationship stuff.
You're going to have to find a coach. You're going to have to be the newbie who sucks at everything for a while until it starts to make sense and you're able to make some of this relationship stuff work. You're going to have to be open to looking bad for a while, and somehow get comfortable with that.
When you finally do find a good coach, your game is going to get much better much faster than you could ever do it on your own.
4. It's easier to shut down than it is to try
Your favorite coping mechanism when things get dicey is to just shut down.
"Don't say anything. Don't do anything. Don't move. It will probably make things worse. If I just ignore it, then things will just smooth out on their own and we can get back to normal around here."
Obviously, that doesn't work at all (or else it wouldn't have made the list). Avoiding the issues only makes things worse.
In fact, disengaging is probably one of the worst things you can do.  It makes your wife panic and move into either über helpless mode or über controlling mode, and neither one works out great for you.
It is going to be essential for you to start dealing with the issues between you and your wife. You're going to have to be the one who instigates some of the conversations. You're the one who needs to make the calls to the people who can help you both move through this situation. You're the one who has to be able to endure some level of healthy conflict and be willing to say, "This marriage is so important to me that I'm willing to be really uncomfortable right now."
When you engage, it tells your wife that she is important enough to fight for, that the marriage is important enough to fight for, and that you're important enough to fight for.
5. You're afraid of feelings
There's a sign that hangs in my office that says, "Men have feelings too… But who really cares."
You're not going to like this, but men are more controlled by their feelings than women are. You're not as transparent about them because you've gotten pretty good at hiding your feelings, but you are most definitely governed by your feelings more than your head.
There's two main problems when it comes to your feelings:
First, you don't actually know what you're feeling at any given point, so how the hell are you supposed to talk about something you can't find. And…
Secondly, on the occasion when you do know what you're feeling, talking about your feelings makes you feel weak and less masculine.
The first one is easy. You can learn how to become aware of the emotions that govern your decisions (back to the coaching thing).
The second one is going to take some work.
It's not commonly known, and only a small percentage of men ever learn this skill, but there is a way for you, as a man, to identify, express, and discuss your feelings without it feeling like you have to grow a pair.
To become a truly influential man—to become a leader—it is essential to understand why you do what you do. That includes the feelings and emotions of any given situation.
6. You're only focused on what to do instead of how to do it
Getting a task done, at any cost, works well in some places. But it doesn't work well in a relationship.
Picture the last time you had a fight with your wife. Remember that part where she said something, you rolled your eyes, and then she said, "You're not listening to me."
At that point, with the smugness of a conquering army, you repeat word-for-word the last thing she said, proving her wrong, and demonstrating to her how "right" you are.
The way you proved your "rightness" was so utterly wrong that you completely lost the battle with your wife. (She's right by the way… you didn't really hear her.)
How you communicate, with openness, kindness, understanding, patience, love, and understanding is just as important as what you're trying to communicate.
Here's the problem… The military (and most business settings) don't really care how you feel about the command that was just given to you. As long as you get the job done, your feelings about the job don't really matter.
But this mentality will kill your marriage.
You have to give as much attention and weight to how you're doing things and how it makes your wife feel for you to have a healthy marriage. Without it… if you're only focused on tasks… then you end up being married to a roommate who's going to start shopping around for a better place to live.
7. You don't like to ask for help
TV, movies, YouTube, radio shows, cartoons… all of these have mocked the counseling process. (Take a look at one of my favorites.) The stereo-typical image of two dudes, sitting in an office, talking about your feelings and why the color yellow makes you sad.
Asking for help means you have to admit that something is broken. And if something is broken, that means that something is wrong with you. And why in the world would you want to purposely look at that stuff, let alone have some complete stranger see all that stuff as well.
Those things might be what you tell yourself… but they're also a lie.
Asking for help may mean that you have to swallow your pride. But isn't that a price you're willing to pay if it means keeping your marriage and family together?
If you and your wife were walking down the street together, and a man jumped out from a dark alley and took a swing at your wife with a 2×4, I know you would instinctually sweep your wife behind you and take the full force of the hit. (and then you might do some hitting of your own.)
You're built to do hard and painful things. You're built to fight for things. That's what makes you a feel like a man.
Step into this hard season, purposefully  and intentionally… take the lead and ask for help from someone who knows how to help you and your wife deal with the crap that needs to be dealt with.
Okay, Now What?
If some of these things (or all of them) seem to be where you're at, you need to know one very important fact.
You can change these things.
You're not stuck. You're not permanently screwed. You don't have to throw your hands up, bail out of your bad situation, and spread the cancer to the next relationship.
But you do need to find someone who knows what to do.
You're going to want to find someone you trust, tell them that things are pretty bad at home, and start asking around to see if they know of anyone who does some hard-core marriage counseling. ( I usually ask the guys who were screwed up but are now doing better. Obviously something worked for them.)
If you've never done counseling, don't worry. It's not like it is on TV. (And if it is, run far away from that guy and TRY AGAIN with someone else.)
If you need some more ideas of what counseling is all about and what it should look like, try the following links and posts:
Last, But Not Least
We'd all like things to get better over night. But even the best counselor can't work miracles.
It takes time for things to heal… even relationships.
If things are pretty bad, then you can count on a solid year of hard work between you and your wife.
That means every week, sitting down together with you, your wife, and the counselor, and getting all this stuff worked out. The counselor is going to ask questions you won't like. Things will get heated. Stuff will be exposed.
But stuff will finally be getting dealt with.
And when that happens, things get better.
I promise.