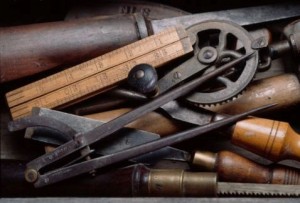 When your marriage is in crisis, everything is overwhelming.
Your home, which is supposed to be a safe place, has been turned into a battle zone. You're doing everything you can just to keep your head above water, but you're not sure how much longer you can stay afloat.
When your relationship in this place, both you and your spouse will start resorting to more and more desperate measures to get your needs met.
You'll start fighting about how you're fighting. You'll bring up past mistakes from 15 years ago. You'll start finding flaws in anything and everything the other person is doing.
If you're wanting things to get better, there are three essential tools both of you are going to need to learn how to use.
Tool #1—Stop Focusing On Everything Your Spouse Is Doing Wrong
Yes, you spouse is making mistakes. Yes, you have legitamate complaints about what they're doing.
But, when you stop and think about it, is there anything you can really do to make them change?
Not really.
Your spouse has to want to change before they're going to accept input and critique from you. They have to be open and receptive instead of closed off, protective, and defensive.
Spending all that time and energy trying to make them change is wasted time and energy.
Instead, take responsibility for what you're doing wrong. Be brutally honest with yourself and fess up to what you're contributing to the problems in the household.
Start making an effort to change your behavior, regardless of what the other person is doing.
When you play the, "I'll change if they change first" game, you're actually giving them all of your power. You're putting yourself in a dependent, submissive position instead of a position of strength. You're saying, "I can't make a decision for myself. I have to wait for someone else to give me permission before I do the right thing."
I'm pretty sure that's not the place you want to be.
Tool #2—Get On The Same Page
Even when you're at odds with your spouse, there are things that you're going to agree upon. Finding those things is essential to moving forward.
The very first issue you should focus on is, "Do we want to stay together?"
If both of you say 'yes' then you're moving in the same direction. You may disagree how to get there, but at least you have the same destination in mind.
Once you agree, it may be time to bring in a travel guide… someone who knows how to get from where you're at to where you want your marriage to be. They can keep both of you from wasting your time with all the distractions and side trips that delay the process.
Plus, they can be the objective voice in your relationship. Because they don't have anything personally invested in the outcome, they will tell both of you what is the best way to fix the specific issues each one of you is having.
(By the way, agreeing on couples counseling is another area where both of you are on the same page… See how easy it is!)
Tool #3—Be Open To ANY Small Attempts And Changes In Your Spouse
This may be the hardest of the three essential tools to master.
Because you've spent plenty of time sitting in the "this-person-will-never-change" place, you've desensitized yourself to any positive changes in your spouse. You've trained your eye to catch all the bad behaviors while filtering out all the good ones.
When you're first learning how to be open to your spouse again, when they do make a small positive gesture, you're going to be tempted to respond with "That's it? That's all you got? You want me to get excited about that tiny little step when there's so much other crap that needs to dealt with?"
It's important to catch that thought as soon as possible, and replace it with, "Yeah, we've got a long way to go (and I wish this was going faster), but I'm going to accept the fact that they're trying and we're now one step closer."
Fixing your marriage crisis isn't going to happen in one big leap. It's the collection of a thousand small positive steps that will make things better.
(In case you're wondering what does happen when there is a lack of openness on your part towards your spouse's positive steps? The criticalness and attacking tone will more than likely cause your spouse to say, "See! I knew it was useless to even try. Nothing I do is good enough any ways, so why keep trying." And then you're right back to square one.)
Now What?
If you know you're marriage is in crisis… if you want to fix it… and if you think that these tools are something you'd like to learn, then the next step is to get your spouse on board (Tool #2).
The easiest way to do that is to have them read this post and then put Tool #1 into practice.
Admit to them that you know you've been doing some stuff to mess up the marriage and that you're willing to work on your stuff.
Remember! Do not point out what they're doing wrong. Don't have any expectations that they will admit they're doing stuff wrong as well. Only take responsibility for what you've been doing. And then keep your mouth shut.
Once they've heard you (and picked up their jaw off the floor) ask if they'd be willing to talk with someone that you both feel comfortable with.
If they agree, then you're on your way to getting this stuff worked out.
If they don't agree, go ahead and take responsibility for yourself, and schedule an appointment with a couples counselor by yourself. Getting some objective input on what you can do will always be helpful.
These tools are relatively simple to use. Mastering these tools will take time, effort, and lots of practice. But keep practicing. In the long run, you may just end up with the vibrant, loving relationship you've always wanted to have.