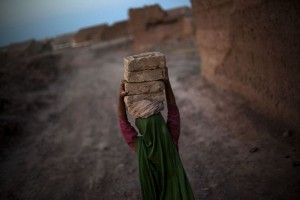 In the last week, I've asked two different men at two different times, "How you doing with [insert personal issue here]?"
Both of them responded with, "Just doin' what needs to be done."
Not Answering The Question
When you think about it, that isn't really an answer to my question.
Let's imagine you're moving a pile of bricks. When asked, "How you doing, moving that pile of bricks" I don't need to be told, "This needs to be done, so I'm doing it."
What I'm really asking is, "As you're moving the pile of bricks, what's your experience?"
You can be ticked off because you have to move the bricks.
You could be feeling a strong sense of accomplishment because the job's getting done.
You could be hurting because the job is hard work.
You could be sad that you have to be moving the bricks alone and in the rain wearing no shoes and blind in one eye.
You could be excited because moving bricks is your favorite thing in the world to do.
FYI Men
Gentlemen, you're always doing more than just what needs to be done. Being able to explain your experience gives you depth. It makes you more attractive. It shows that you are a man of substance.
Connect with your own experience first, and then learn how to share it with others. It makes moving bricks much more tolerable.