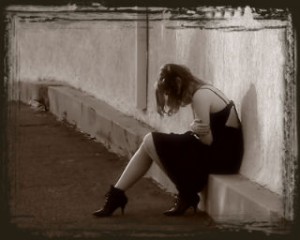 If you have been abused, it's normal to feel some sort of responsibility. It's a way of trying to make sense of what happened to you.
Here are the common "reasons" you might be telling yourself, as to why you were abused:
1. I Didn't Fight Back
With hind sight, you replay the situation over and over and think about what you "should" have done. Then, you start critiquing yourself up for not doing that. This starts to solidify into a "reason" why the abuse is somehow your fault.
When feeling overwhelmed, NOT fighting back—or freezing—is actually the most common response you would have. Your thinking was, "If I just stop moving then somehow I won't encourage what is happening to me." It's also normal to freeze "just to get it over with".
If you want more in depth info, this is where I've written about the freeze response in a previous post.
2. I Didn't Want It To, But It Felt Good
Your body is designed to experience pleasure when it is touched. Unfortunately, it doesn't always matter who is doing the touching or what the circumstances are.
There are a couple of important things to understand about your body's response:
There was nothing you could do to stop your body from responding the way it did. It just does what it does.
Feeling pleasure does not mean that you were condoning what was happening to you.
You are not crazy or "broken". When fear and pleasure are experienced at the same time, it's normal to feel a little confused.
3. I Must Have Done Something To Encourage It
"Why did this happen to ME?"
The WHY question is always the biggest question—and the one that is hardest to answer.
When something doesn't make sense, the easiest answer to find is, "I must have done something to encourage this." It could also sound like, "There must be something about ME that made them want to do this to me."
While this seems to make sense, it is a lie. People are responsible for their own choices and behaviors. Regardless of your own choices and behaviors, your offender had to make the choice as well to act out.
Here's something to consider—not everyone would have made the same choices as your offender.
Now What
If you are an abuse survivor, processing through theses responses is best done with another person. A counselor who is trained in trauma and is safe, kind, and compassionate can speak truth into your life. They can help you process through the distorted beliefs and help you make sense of the physical sensation (called body memories).
Since you were hurt in relationship, you can heal in relationship as well.