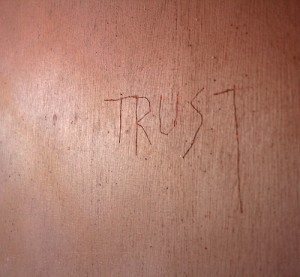 As a therapist, I'd like to think that I have these awesome skills and techniques that make people better.
But, according to lots and lots of studies from really smart people, the specific type of therapeutic technique that is used doesn't really matter.
What does matter is the quality of the therapeutic relationship.
Basically, what that means is, "Do you like your therapist?" and "Do you trust your therapist?"
When Trust Is A Trigger
If you're an abuse survivors, trusting someone can be incredibly difficult. Here's why…
Since you're an abuse survivor, you were probably taken through something called the grooming process.
The grooming process is when your offender did nice things to you and for you in order to increase your level of trust in them. They wanted you to trust them so that your defenses would be lowered and they would be able to have some sort of power over you.
But when that trust was then betrayed, and you ended up scared and hurt, there was this little switch that went off in your head that said, "This happened because I let my guard down. This happened because I trusted them."
Fast forward to today, and you're sitting in an office with your counselor. You've spent the last 4 months talking with him every week, slowly warming up to him as you talk about things that are more and more personal.
He gently, but intentionally, is encouraging you to trust him by asking you to expose more of your story so that he can help you.
But there's this resounding alarm in your head going off that says, "WARNING! WARNING! The last time you trusted, you got burned. Don't trust this guy either."
This warning alarm is very normal. It goes off when you feel like you're being groomed again.
The problem is, sometimes the grooming alarm goes off when there is no real danger.
Trusting and grooming are not the same thing.
Trust Is Not The Enemy
Learning to trust your counselor is one of the essential steps in recovery.
Practicing sitting in that uncomfortable place with him… risking being hurt again… battling all of the warning alarms in your head… all of these are the foundational aspects of truly recovering as an abuse survivor.
When you experience someone genuinely caring for you, not to get something from you for their own personal satisfaction, but because you are valuable and worthy of being cared for… when you move through that experience… it starts to challenge the deeply engrained beliefs about yourself and the world around you.
And once you find out what it feels like to trust your counselor, you'll be able to apply those same skills to the relationship with your  husband or wife, with your co-workers and friends, with your family and with your Creator.
Trust is now a re-learned skill.
You knew how to do it once by instinct. Now you do it by choice.
Post Script
The image used in this post had this caption under it:
"I bought a house a few years ago. It had been recently painted and this word was scratched on one door. It was a time when I needed to trust as things were going very badly."
Sometimes, the messages we need the most show up in the strangest places.