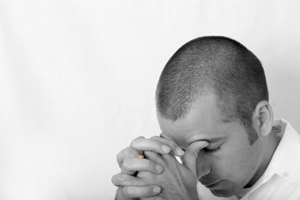 I talked with a man earlier this week who has struggled with a sexual addiction since high school. He has seen counselors, gone to classes, joined accountability groups, and still he feels like he is in the same place he was earlier in life. Why can't he get any traction? Is it him? Is he just not trying hard enough?
Fixing Feelings With Thinking
What I commonly see among men is using the wrong tool to fix the problem. As men, we don't like to feel too much. It makes us feel weak, pathetic, feminine, etc… All the things men don't want to feel. So, common sense says to most men, "Just study the problem. Learn everything you can ABOUT the problem. Quantify it. Theorize about it. Think about it. Understanding it. But don't feel about it."
When men stay in their heads, they never really deal with the shame and guilt. They never finally sit truly exposed and laid bare to be seen for who they really are. They never risk feeling and receiving unconditional love from someone else because they believe that "if someone really truly knew me or saw me for who I really am, they would never love me. They would reject and shun me. They would shame me even more."
Being Vulnerable
Its tough being seen. Its hard to disarm and put down the rational side of our beings. Its hard to just be and be accepted for just being. But that is the work that needs to be done.
If you're still struggling with a sexual addiction and you finally want to deal with it, you need to know that it is going to be one of the hardest things you do in your life. You need to find the counselor that is going to ask you every hard question you cower from. You need to find the counselor that will know how to help you stop avoiding and dodging the real work and start pursuing you and all the hurt you carry. That isn't easy work. But once it is completed, it will be the most rewarding thing you've ever done in your life.